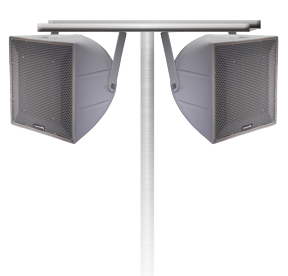 Loud & Clear, Rain or Shine
As the Air Show industry has grown Continental Air Show Productions (CASP) owner and ICAS Charter Member Bill Bordeleau has studied the trends and looked for opportunities to improve his company's offerings. Air show sound requirements have changed over the years and CASP has provided new solutions to meet the industry's needs time and again.
After forty-five plus years, and many industry firsts, CASP has once again set a new standard in all-weather concert quality sound. Bordeleau tasked CASP Ops. Director Dave Olmstead to work with the engineers at Community Professional Loudspeaker to develop a new front line all weather sound system. The new system was unveiled at the Windsor International Air Show in August and has received rave reviews ever since.
The heart of the system is comprised of 36 Community R.5HPT speakers. The three-way R.5HPT is a full range system that delivers the audio quality and voice intelligibility of a true concert system. These same speakers are in use at the legendary Talladega Superspeedway, the former California Speedway (which became Auto Club Speedway in 2008), Marina Bay Street Circuit in Singapore, and countless other venues. "The R.5HP is the distillation of over forty years of thoroughly dedicated Community Professional Loudspeakers research into perfecting the most rugged, compact, easy-to-mount, music and speech responsive, weather resistant loudspeaker on the planet," said John Wiggins, Vice President, Community Professional Loudspeakers.
"The R.5 HP's 3 way design and horn loading of all components yields excellent musicality and speech intelligibility in high ambient sound level environments, which is why they are ideal for Continental Air Show Production's requirements." Noted Dave Howden, Director of Technical Services at Community Professional Loudspeakers.
The new system will hang pairs of speakers 13' off the ground in front of the crowd. "The amazing thing is that each speaker's box is only 16" x 16" so site lines are not disrupted by stacks of big speakers," said Bordeleau. "The air show audience wants to hear that concert quality sound, but the challenge has been balancing weatherization, size/weight, and sound quality. These new speakers are going to set the bar for providing professional air show sound, rain or shine." Bordeleau stated.
In addition to the one mile of show line sound system coverage, CASP was the first in the industry to utilize three microwave transmission systems to connect additional speakers to extend the sound elsewhere on the air show grounds.
Owner: Darlene & William F. Bordeleau, International Council of Air Shows (Charter Member #4)
Dave Olmstead
Operations Director/Crew Chief
Dave is in his fourteenth year with CASP and has already been a part of over more than 110 shows with CASP. Dave's production background includes a degree in radio and television production from Ohio University, over two decades of live sound reinforcement, video production, and event management.
Dave coordinates the scheduling and logistics behind the CASP schedule. You can E-Mail Dave regarding your show's need or call him at 513-617-0906.
When not at an air show Dave can be found running his advertising agency and production company, Behind The Scenes Productions, in Amelia Ohio. Dave is also a member of ICAS as Behind The Scenes Productions.
Jim Fiorito
Jim is a veteran of the Air Show industry with more than 250 shows as an engineer with CASP. Jim's production background includes directing TV News for WKRC in Cincinnati Ohio, providing decades of live sound reinforcement for everything from symphonies to rock-and-roll bands, and has even spent some time behind the mic as both a guitarist and a vocalist.
As a commercial instrument rated pilot, Jim has been credited with teaching Rob Reider to fly as well as sharing his love of flying and air shows to many people who oddly enough end up serving as part of a CASP crew at an air show somewhere.
Bill Bordeleau
William F. "Bill" Bordeleau started Continental Air Show Productions in 1969 and is Charter Member #4 of the International Council of Air Shows. Bill and his wife Darlene, who currently runs CASP since Bill's passing on January 8, 2017, were the first support staff to ICAS as the fledgling organization was run from their apartment for several years.
As Bill traveled the country providing sound and announcing support to air shows from coast to coast he set a standard that announcers and air shows emulate yet today.
Over the years Bill was recognized for his efforts and here  are some of Bill's Awards:
1992 - Recipient of International Council of Air Shows "Sword of Excellence"
Recipient of the Rolly Cole Memorial Award
2001 - Inducted into Wisconsin Aviation Hall of Fame
2005 - Inducted into the ICAS Foundation Hall of Fame
Named Honorary Golden Knight, Thunderbird, Blue Angel Crew Member
We're ready to help your show
It's time for your audience to hear what they've been missing! Give Dave a call at 513-617-0906 or click the button and send us some details on your show!
Download Our Support Manual Here
Includes arrival and departure information
Download our Info Sheet Here
Take a look at our awesome information sheet
Check out our sponsors!
We have great people working for us and great companies supporting us!