We bring awesome production professionals to support your show!
One thing has remained the same since Bill started CASP in 1969 and that is that you have to have good people working with you in order to thrive in the production industry. CASP has been blessed with some great people over the years and our current crews are no exception!
CASP travels with a Crew Chief and at least 2 other crew members to each and every show.
Dave Olmstead
New Owner/Lead Crew Chief
Dave Olmstead is in his twentieth year with CASP and is now the owner. Dave's production background includes a degree in radio and television production from Ohio University, over three decades of live sound reinforcement, video production, and event management.
Dave coordinates the scheduling and logistics behind the CASP schedule. You can E-Mail Dave regarding your show's need or call him at 513-617-0906.
When not at an air show Dave can be found running his advertising agency and production company, Behind The Scenes Productions, in Amelia Ohio. Dave is also a member of ICAS as Behind The Scenes Productions.
Dave is currently serving on the Board of Directors for the Northeast Council of Air Shows.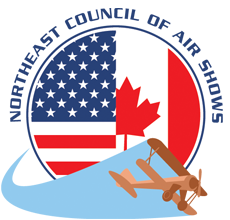 Jim Fiorito
Jim is a veteran of the Air Show industry with more than 250 shows as an engineer with CASP. Jim's production background includes directing TV News for WKRC in Cincinnati Ohio, providing decades of live sound reinforcement for everything from symphonies to rock-and-roll bands, and has even spent some time behind the mic as both a guitarist and a vocalist.
As a commercial instrument rated pilot, Jim has been credited with teaching Rob Reider to fly as well as sharing his love of flying and air shows to many people who oddly enough end up serving as part of a CASP crew at an air show somewhere.
Remembering Bill Bordeleau
Founder & ICAS Sword of Excellence Winner
William F. "Bill" Bordeleau started Continental Air Show Productions in 1969 and is Charter Member #4 of the International Council of Air Shows. Bill and his wife Darlene, who currently runs CASP since Bill's passing on January 8, 2017, were the first support staff to ICAS as the fledgling organization was run from their apartment for several years.
As Bill traveled the country providing sound and announcing support to air shows from coast to coast he set a standard that announcers and air shows emulate yet today.
Over the years Bill was recognized for his efforts and here  are some of Bill's Awards:
1993 - Recipient of International Council of Air Shows "Sword of Excellence"
Recipient of the Rolly Cole Memorial Award
2001 - Inducted into Wisconsin Aviation Hall of Fame
2004 - Inducted into the ICAS Foundation Hall of Fame
Named Honorary Golden Knight, Thunderbird, Blue Angel Crew Member
Jim Bishop
Professional Driver
Jim retired from professional big rig driving after logging over 3.5 million miles. Jim has been driving for CASP since 2011.
Marie Bishop
Professional Driver's Co-Pilot
Marie and Jim celebrated their 50th Wedding Anniversary in 2017 and she travels with Jim and the CASP crew providing  adult supervision and a lot of often unseen, but certainly appreciated hard work.
Brian McChesney
A True Air Show Grunt
Brian was a long-time Cleveland National Air Show Volunteer prior to joining the CASP Crew. Brian has been with the crew since 2006.
Would you like to join our team?
We always have room for great people! Shoot us an email by clicking the button!